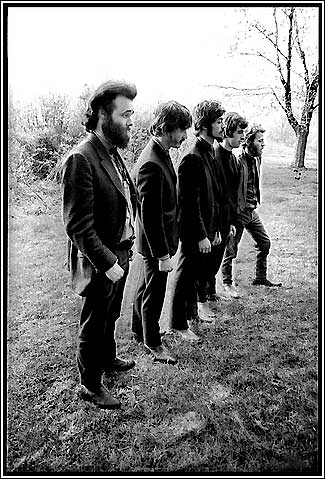 Not to do a dishonor against Johnny Cash and folks, but the real representation of America in rock music was
basically a bunch of Canadians
.  America, you should be slightly (and by slightly I mean entirely) ashamed of this...am I wrong?  No American can come close to representing America but these guys.  I wouldn't disagree with someone who would make the argument that Johnny Cash was basically the "voice of America."  That voice exemplifies the Southern man more than anything else, but his music is distinctly country, and thus suffers from getting pigeonholed into the realm of country music, disqualified from represented the greater America as a whole.  But the Band?  The Band was the best vehicle for America that America has ever had.  Let me state my case:
If you consider the human body to be some strange amalgation of artists in rock music, one could easily make the argument that Bob Dylan was the brain.  The Beatles...well, they could be basically everything else but one thing: common sense.  Gumption, if you will.  Were the Beatles too good to delve into common sense?  Who knows, but that's not quite the point.  But gumption?  Well, the Band is that.  No frills rock and roll.  None of that psychadelic junk.  They exhibited a rustic attitude that embraced the American way of life.  All business, but not city business...more of a "business of living," delighting in the more worldly ventures life presents.  No tricks, no lies, just their stuff, straight and true.  "The Night They Drove Dixie Down" serves as the prime example, a candid retelling of the end of the Civil War, so achingly beautiful yet so simple.  The American way of life back then was admittedly simpler then too, mostly defined by its small towns, cohesive family units, and miles and miles of farmland.  A simple living, and the Band's arrangements exemplified this rustic life.
Beyond their normal setup of guitar, bass, keyboards, organ, and drum with some violin, mandolin and horns sparsely integrated, they exemplified the working American.  Touring on an incredibly intense schedule, there was no rest for the weary, until they went back into the studio.  This obviously took a toll on the band, eventually leading to its first and "real" demise.  That first lineup was magical, and it's virtually impossible to really consider latter-day Band as anything close to old-day Band.  But those studio albums...they changed the face of rock music, too.
Music From Big Pink
 is still their crowning achievement, despite all the crap it gets since "The Weight" showed up in
Easy Rider
.  Drawing heavily on old American folk themes, they spun strange stories about the things that mattered the most in small town American life: your faith, and your family.  Richard Manuel plays the distraught father in "Tears of Rage," rueing a recalcitrant daughter, while biblical images roam free on Robbie Robertson's "To Kingdom Come."  Everything centers on these few things, giving the loose yet articulate album a cohesion that few albums could ever hope to have.  This album changed rock music.  But I'm not really here to elucidate about my third favorite album ever...so to continue on:
You could argue that the Byrds got there first with
Sweetheart of the Rodeo
, but the Band did it better, and so they get the nod.  Rock music was an insanely drugged up affair at this time, delving wholeheartedly into psychadelia and pure rock star lifestyles, rich yet empty lives.  But then the Band came and, for all intents and purposes, said: "Here's the way.  Come, and you will be (mostly) healed."  Now, it's understood that the Band wasn't wholeheartedly immune from the rock star lifestyle, but at least at face value their music projected simpler things that could probably "heal" a hurt soul.  Regardless, this was the counter-counterculture movement.  Away from all the pomps and frills, back to the living where most people got started...a simpler time, a simpler music that was no less heartfelt (if not more heartfelt) than whatever was going on at the time.  This place was the "real America," where one could consider its heart and soul to be: in the countryside.  The Band exemplified the country; there was no way that it wasn't planned, but it comes off as uncannily easy.  It's a ragged, scrappy music, like the people who had to make do with what they had in the countryside.
And everyone followed.  The Beatles dispensed of their psychadelic freakouts and returned to good old-fashioned rock and roll on
the Beatles
.  Even the best group in rock music found something they couldn't ignore.  The Rolling Stones returned to their R&B roots with
Beggars Banquet
.  Eric Clapton wanted to be in the Band so much, but he had not the guts to ask, and so had to "settle" in his own right with Derek and the Dominos's 
Layla and Other Assorted Love Songs
.  In some strange twist of irony, you either followed the Band with this roots movement, or you risked falling out of sight in the landscape of rock.  It's not necessarily the fact that they got the greater part of the world of rock to follow them, it's that in the sense that they pushed rock music farther forward by basically going as far back as possible, to its roots...though not its British but its American roots in rockabilly, folk, blues, and country.
Granted, the Band had an impressive pedigree already, as the Hawks behind Ronnie Hawkins and as Dylan's backing group (minus Helm) for the infamous world tour in 1966.  But that doesn't make their achievement as the real voice of America, of gumption in rock music any less awe-inspring.  There are few better ways to describe it than as simply an "American" sound.  It just sounds American, enigmatic in that it can't be pigeonholed, yet so firm in its stance that "Yes, this is American."  Or, if you will, "Americana."  No fancy adornments, like the people they essentially represented.  All you needed was a little elbow grease and some common sense to get something done in American society, and the Band was the personification of that.
They were America...placeless yet grounded in the American way.